Itinerary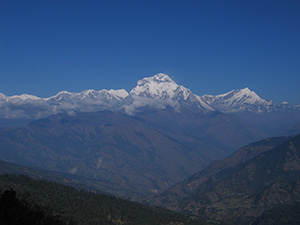 Day 01: Kathmandu (1,340m) - Pokhara (914m). Drive by Bus, Car or Fly. Camp at Pokhara.
Day 02: Trek Pokhara - Dhampus (1,900m). Camp.
Day 03: Trek Dhampus - Forest Camp (2,000m). Camp.
Day 04: Trek Forest Camp - Meadow Camp (2,750m). Camp.
Day 05: Excursion to High Camp (4,500m) of Mardi Himal (5,588m) and return to Meadow Camp. Camp.
Day 06: Trek Meadow Camp - Landruk (1,646m) - Ghandruk (2,050m). Camp.
Day 07: Trek Ghandruk - Tadapani (2,650m). Camp.
Day 08: Trek Tadapani - Dobato (3,420m) - Bhaisi Kharka (3,580m). Camp.
Day 09: Trek Bhaisi Kharka - Kopra Ridge (3,550m). Camp.
Day 10: Rest at Kopra Ridge and a side trek of the surroundings.
Day 11: Trek Kopra Ridge - Chitre (2,400m) Camp.
Day 12: Trek Chitre - Ramche (2,550m). Camp.
Day 13: Trek Ramche - Lespar (2,000m) Camp.
Day 14: Trek Lespar - Nayapul (1,100m) Drive Nayapul - Pokhara. Camp.
Day 15: Drive or fly from Pokhara to Kathmandu.