The trekking trail selected by us traverses a variety of terrain from lowland villages to the Glaciers offering beautiful mountain views. Poon Hill (3,193m) offers you the Panoramic 180 Degree View of Dhaulagiri Range and Annapurna Range including Lamjung Himal and on the other hand you will be surrounded by Himalayan Peaks on all sides at Annapurna Base Camp. Annapurna Base Camp offers the enchanting view as well as spiritual bliss to everyone who enters the Sanctuary.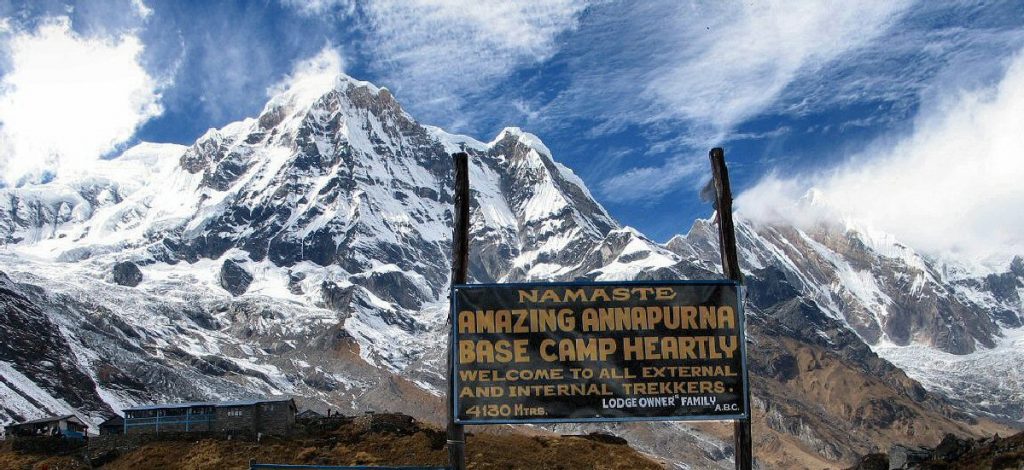 Itinerary
Day 01: Arrival at the Tribhuwan International Airport, Kathmandu. Received by our Airport Representative. Transfer to the hotel. Detailed discussion and briefing.
Day 02: Sightseeing tour in and around Kathmandu Valley (Optional).
Day 03: Drive or fly from Kathmandu to Pokhara.
Day 04: Drive from Pokhara (914m) to Naya Pul (1,045m). This drive will be through the winding roads offering the view of terraced fields and greenery of the forest. From Naya Pul, a small town situated near Modi Khola (River) flowing down from Annapurna Sanctuary the trek begins. Trek from Naya Pul to Birethanti (1085m), one of the gateways to Annapurna Region. Trek Birethanti Tikhedhunga (1,577m).
Day 05: Trek Tikhedhunga - Ulleri (2,073m). This part of the trek is all the way straight uphill till you reach Ulleri but from there the trail goes up gradually through Magar villages and rhododendron forest till you reach Ghorepani (2,855m).
Day 06: Early morning walk to Poon Hill (3,193m) to catch the 180 Degree view of the mountains including Mt. Dhaulagiri (8,167m), Tukuche Peak (6,920m), Thapa Peak (6,013m), Nilgiri (6,940m), Varaha Shikhar (7,847m), Mt. Annapurna South (7,219m), Hiunchuli (6,441m), Mt. Machhapuchhre (6,993m) and enjoy the effect of the colour cast by the rising Sun over these mountains. After breakfast trek Ghorepani > Tadapani (2,650m). First part of the trek is uphill till you reach an elevation of 3,200m. On the trail you will be rewarded with the view of the above mountains and peaks from different angles. This is one of the finest and most beautiful trekking trail as some part of the trek is dominated by the view of the Annapurna Range, Mt. Machhapuchhre and glimpses of Lamjung Himal and Manaslu Range to the farther east. Tadapani is a small village situated at a pass of 2,650m offering eye catching view of Annapurna South and Mt. Machhapuchhre. Enjoy the sight of local women engaged in Carpet Weaving in their leisure.
Day 07: Trek Tadapani - Chhomrong (2,000m). The trail leads you all the way down to Kyumru Khola (River) from where the trail ascends all the way up to Chhomrong situated at the base of Himal Chuli (6,441m).
Day 08: Trek Chhomrong - Dovan (2,265m). After reaching Khuldighar the route goes down very steeply to bank of rock and then levels out running through thickets of Bamboos at the bottom of the gorge. The trail from here ascends gradually.
Day 09: Trek Dovan - Machhapuchhre Base Camp (3,400m). The trail ascends gradually to Bagar from where it is relatively steeper towards the Base Camp.
Day 10: Trek Machhapuchhre Base Camp - Annapurna Base Camp (4,130m). This day it will be a leisurely trek of 3 hours. After reaching Annapurna Base Camp and lunch you can visit the surrounding. This is the Sanctuary where it is worth spending some time experiencing oneness with natural bliss.
Day 11: Trek Annapurna Base Camp - Dovan. From Annapurna Base Camp to Chhomrong you will return the same way as this is the only route there.
Day 12: Trek Dovan - Himal Pani (1,650m). From Dovan to Chhomrong it is the same route but from Chhomrong the trail that you will follow traverses downhill towards Himal Pani, where there is a Natural Hot Spring offering relaxing and healing bath to tired trekkers.
Day 13: Trek Himal Pani - Ghandruk (1,951m). From Himal Pani it is a four hours uphill trek through paddy fields. Ghandruk is the biggest village in the region and houses the headquarter of Annapurna Conservation Area Project. The view of Mt. Machhapuchhre and Mt. Annapurna South is superb from this village.
Day 14: Trek Ghandruk - Birethanti. On this days relaxing trek downhill you will enjoy the view of the paddy fields and greenery of the forest. Trek Birethanti - Naya Pul. End the trek her with a drive to Pokhara.
Day 15: Drive from Pokhara to Kathmandu or stay in Pokhara for couple of days or drive from Pokhara to Royal Chitwan National Park for Jungle Safari Package.