Fly In and Fly Out
Starting Point: Jomsom (2,713m) with a flight from Pokhara.
Ending Point: Jomsom (2,713m) with a flight to Pokhara.
Itinerary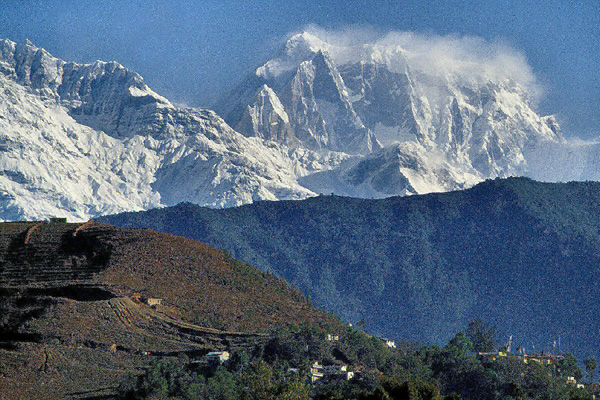 Day 01: Drive or fly from Kathmandu to Pokhara (914m).
Day 02: Pokhara – Jomsom (2,713m) – Kagbeni (2,900m).
Fly from Pokhara to Jomsom in the morning. During this short flight you will fly over the Deepest Gorge (River Kali Gandaki) in the World. The view of the Majestic Mountain Peaks of Dhaulagiri Massif and Annapurna Massif from the aeroplane offers you sublime ecstasy. After a little rest at Jomsom start your trek to the once forbidden kingdom of Mustang. The trail goes ahead to Kagbeni via Chhanche Lhumba better known as Ekle Bhatti literally meaning "Lonely Bar" following River Kali Gandaki. Reach Kagbeni, a green oasis at the junction of the Jhong Khola and Kali Gandaki. Camp.
Day 03: Kagbeni – Chele (3,030m).
The trail starts going up the eastern bank of River Kali Gandaki climbing over many ridges towards north and reaches Tangbe Village. This village has narrow alleys amongst whitewashed typical houses made of stones, fields of wheat, buckwheat, barley and apple orchard. The Nilgiri Peak can be seen dominating the view in the horizen. After walking for about one hour from Tangbe we pass through Chhusang Village and continue our trek towards north. Climbing up the trail we meet the originating point of the Holy River, Kali Gandaki. From this point the trail leaves the Kali Gandaki Valley and climbs steeply up to reach Chele for night rest. Camp.
Day 04: Chele – Geling (3,450m).
The culture and life style of the local inhabitants Change at Chele into Tibetan culture of Lo from Manangi culture of south of Chele. From here the climb continues through steep, treeless, waterless terrain along the side along side passes and cairns of rock at (3,540m). We make gradual walk side by side with some Buddhist Chhortens on a ridge before reaching Samar Village. After Samar it will be a climb to a ridge to descend down to a large gorge and enter into another valley. After crossing a small stream we climb upto a ridge at (3,800m). The trail climbs to another pass, follows a ridge and ultimately descends to Shyangmochen from where it climbs to a pass at 3700m. before descending to Geling. Camp.
Day 05: Geling – Chharang (3,500m).
The trail climbs gently to one of the interesting pass of this trek – Nyi La and descends below blue, gray and red cliffs across the valley and Tangmar Chu (River). From here we climb a pass which is one of the longest and most spectacular stretch and main wall in Nepal. The trail again climbs to another pass at 3,600m before a long and gentle descent to Chharang begins. The five storied White Dzong and Red Gompa awaits your visit here. A visit to these places allows you to observe collection of statues and Thankas as well as several paintings of Lord Buddha. Camp.
Day 06: Chharang – Lo-Manthang (3,700m).
After a descend of approximately 100m. down across Chharang Chu (River), we make a steep climb up a rocky trail to a cairn on a ridge and continue to climb to a ridge at 3,850m. from where we get the first view of the walled city of Lo. After a short descend we cross a stream to climb up into the plateau of Lo-Manthang. Camp.
Day 07: Lo-Manthang.
Tall Chanipa Lakhang "God's House", Red Thungchen Gompa, Chyodi Gompa and Entrance Hall are the main attractions of this Place. Raja's (King's) four storied palace and the panoramic view of the surrounding are another attraction. There are numerous other things to see and observe here. Camp.
Day 08: Lo-Manthang.
This day we will visit Kimling & Phuwa and Tingkhar – the Summer Palace of the King of Mustang. It is situated in the western valley. The Gompa of Nangyals (The Monastery of Victory) is the newest and most active Gompa in Lo. In the afternoon we will visit the eastern valley of Chosar, the High School site, Garphu and Nymphu Gompa near the main trade route to Lhasa. Camp.
Day 09: Lo-Manthang – Ghami (3,520m).
On return back we pass by two other villages and the trail ascends steadily to a pass offering a change to get the last glimpse of the walled city of Lo Manthang, but the view that you have captured in your camera will remind you of a visit to this once forbidden kingdom ever and ever. The trail reached a ridge at 4,070m from where it descends to the south through two more valleys, meadows and stream. Then the trail makes a long descend to Gekar where Lo Gekar Gompa is situated. It is older than Samye Gompa in Tibet. After crossing the Village of Thamar we descend to Ghami for well deserved rest. Camp.
Day 10: Ghami – Samar (3,300m).
Climb to Nyi La (Pass) and descend to Samar Village passing through Geling. Camp.
Day 11: Samar – Kagbeni.
We follow the same trail through Chele to reach Kagbeni. Camp.
Day 12: Kagabeni – Muktinath (3,802m).
Day 13: Muktinath – Jomsom (2,713m).
Day 14: Fly from Jomsom to Pokhara.